Understanding The Types of Auto Insurance Coverage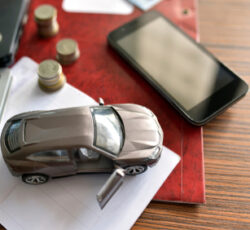 When it comes to auto insurance, it's crucial to understand the different types of coverage available. With the variety of options out there, it can be overwhelming to navigate through them all. However, having a good understanding of these coverage types will help you make informed decisions that suit your needs and protect you financially in case of an accident.
1. Liability Coverage:
Liability coverage is the most basic form of auto insurance. It is mandatory in almost all states and covers damages caused by you to someone else's property or bodily injury. This type of coverage pays for the other person's medical expenses, property repairs, and legal fees if you are deemed at fault in an accident. It does not cover your own injuries or property damage.
2. Collision Coverage:
Collision coverage pays for repairs or replacement of your own vehicle if it is damaged in an accident, regardless of who is at fault. This coverage comes into play if you collide with another vehicle or an object such as a tree or fence. It's important to note that collision coverage is not mandatory, but if you have a loan or lease on your vehicle, your lender or lessor may require it.
3. Comprehensive Coverage:
Comprehensive coverage is often confused with collision coverage, but they are different. Comprehensive coverage protects your vehicle from non-collision-related incidents, such as theft, vandalism, fire, or natural disasters. It also covers damage caused by hitting an animal. Just like collision coverage, comprehensive coverage is not required by law, but it may be required by your financing or leasing company.
4. Personal Injury Protection (PIP):
Personal Injury Protection, also known as PIP, provides coverage for medical expenses and lost wages resulting from an accident, regardless of who is at fault. It can also cover expenses related to rehabilitation, funeral costs, and even child care if you are unable to perform those duties due to injuries sustained in an accident. PIP coverage is mandatory in some states and optional in others.
5. Uninsured/Underinsured Motorist Coverage:
Uninsured/Underinsured Motorist Coverage (UM/UIM) protects you if you are involved in an accident with a driver who has little or no insurance. It covers medical expenses, lost wages, and other damages. This type of coverage is especially important since, despite laws requiring it, many drivers on the road do not have adequate insurance. UM/UIM coverage is optional in most states, but it's worth considering, especially if you live in an area with high rates of uninsured motorists.
6. Medical Payments Coverage:
Medical Payments Coverage (MedPay) is similar to PIP coverage but typically provides more limited benefits. It covers medical expenses for you and your passengers, regardless of who is at fault. MedPay can help with medical bills, ambulance fees, and even dental treatment resulting from an accident. MedPay coverage is optional in most states.
7. Gap Insurance:
Gap Insurance is a type of coverage that is often recommended for individuals who have financed or leased a new car. It covers the difference between the actual cash value of the vehicle and the amount owed on the loan or lease if the car is stolen or totaled in an accident. Gap insurance provides added financial protection and ensures that you won't end up owing money on a vehicle you no longer have.
Conclusion
Understanding the types of auto insurance coverage is essential before making decisions about your car insurance policy. While liability coverage is usually mandatory, it's important to consider additional coverage options that can protect you and your vehicle in different scenarios. From collision and comprehensive coverage to personal injury protection and uninsured motorist coverage, each type of coverage serves a specific purpose. By evaluating your needs and risks, you can choose the right coverage that provides adequate protection and peace of mind while driving.
Got Questions? Let Us Help!
Kiesling Insurance Agency understands that the insurance process can be overwhelming. Making sure you are adequately covered is one of the most important things you can do for yourself and your family. As your trusted advisor, our mission is to make sure that the things that are most important to you are covered: your family, home, cars, toys, and business. We have a team of licensed professionals ready and available to help with your insurance program. Our goal is to help you understand your coverages and to tailor a program to meet your specific needs and protect your family. Give us a call today!